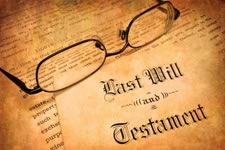 Most people don't realise that it is essential to review and update your Final Will and Testament annually due to possible changing personal or financial circumstances. Estate Planning is essential when securing the future well being of your family and loved one's.
Should you not have a current Will set up? Let us assist you in Drafting of Wills, the Appointment of Curators and Trustees as well as Trust and Asset Management. To ensure that your loved one's are well provided it is also very important that we advise you on how to minimise Estate Duty that may be relevant to you.
We can also arrange what is known as a Living Will for you. A Living Will allows you to choose should you not want to be kept alive artificially at a later stage in life. This will then be enforceable.
The main aim behind having a professional and up to date Will is to protect your loved one's during a time of loss and reduce stress for them. Ultimately securing the future, from a legal point of view in the best way possible for the people you care about most.